Glenn Maxwell may not need Sheffield Shield cricket for Test recall - Chris Rogers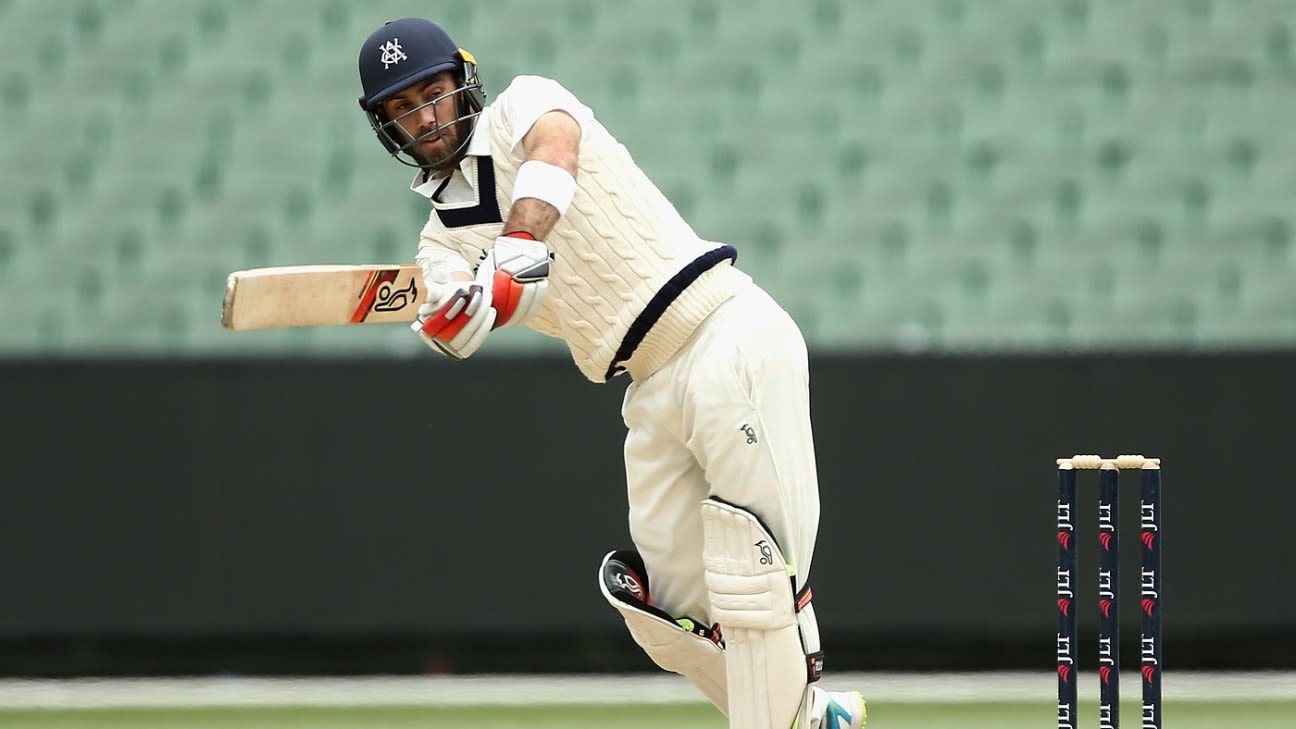 Whether the allrounder is available for Victoria next season will depend on the schedule and potential quarantine
Victoria coach Chris Rogers is not convinced needs to play Sheffield Shield cricket in order to be recalled to the Australia Test side although would gladly welcome him back.
Due to IPL and international commitments, Maxwell did not play any games for Victoria this season but recently stated his desire to that is stalled on seven caps with a particular eye on the run of subcontinent tours Australia have on the cards in 2022 with series slated against India, Sri Lanka and Pakistan.
His availability for a small Sheffield Shield window next season will depend on quarantine requirements after the T20 World Cup and any potential gap after the BBL.
"I'd like to think he'll be a Victorian cricket player, for sure," Rogers told reporters after the final game of the season against South Australia. "As for the Australian side, having conversations with selectors, whether they pick him out of a Shield competition most likely for a series in India of whatever I'm not sure that's necessarily required, it'll definitely be horses for courses there.
"Whether they need to see him play Sheffield Shield for Victoria I'm not 100% sure but that doesn't mean we wouldn't look at the opportunity."
There had been an outside chance of Maxwell squeezing in a state game after the New Zealand tour before leaving for the IPL but Queensland and Western Australia border restrictions precluded it. It has been a while since Glenn Maxwell has played in whites Getty Images
All seven of Maxwell's Tests have come in Asia; four against India, two against Bangladesh and one against Pakistan in Abu Dhabi with his one century coming in Ranchi on the 2017 tour.
Speaking in February, Maxwell had touched on the fact that conditions in the Shield would likely have little resemblance to what the team would face on tour.
"You're not facing these conditions in Australia, so you're probably not learning a whole lot off Sheffield Shield cricket in Australia," he said. "Not really getting a gauge on what guys are going to be like under that sort of pressure with the ball spinning square, keeping low, bouncing over your head.
"It's just a different beast completely, so to be able to pick a Test side based on Sheffield Shield cricket it's probably a little bit more difficult, I think you've got to go in with a lot more specialists, who can adapt to spinning conditions and find a way to score in those conditions as well."
There were three spinners in the top five wicket-takers in the Sheffield Shield this season - Nathan Lyon, Mitchell Swepson and Jon Holland - although most surfaces did not offer a vast amount of turn.