Kiran Carlson, Andrew Salter help Glamorgan lift Royal London Cup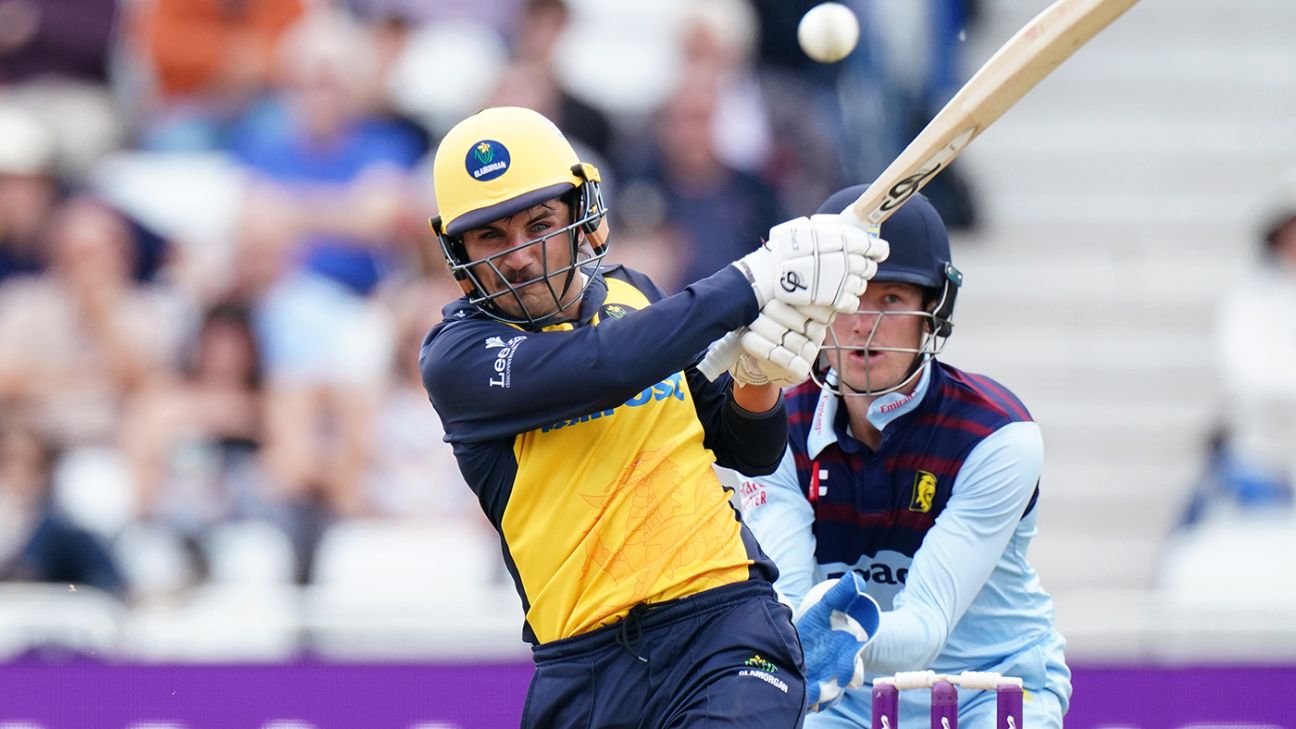 Glamorgan 296 for 9 (Carlson 82, Potts 3-55, Raine 3-58) beat Durham 238 (Dickson 84*, Bancroft 55, Salter 3-42) by 58 runs
Criticism has never been far away for cricket in Wales in the past decade as Glamorgan have fought for a more ambitious future. Their right to host Test cricket has been questioned, as has Cardiff's entitlement to host a side in the inaugural season of the Hundred. But there is a defiant spirit to Welsh cricket - without it they would not even have survived the 1920s - and they gave a huge two-finger salute to their detractors at Trent Bridge as they took the final of the Royal London Cup with a 58-run win against Durham.
Durham were the favourites, but they looked slightly uptight, especially with the bat, whilst Glamorgan wore their underdogs tag with passion and togetherness. , was left high and dry for 84 not out as Durham subsided to 238 on a decent batting surface, all bar Dickson never finding the power game that has been on the screens nightly as the Hundred has stolen some of the competition's thunder.
The final finished with a lovely moment as Michael Hogan, an unstinting back-of-a-length seamer, 40 years young, and one of the county game's most respected pros, claimed the last wicket - Chris Rushworth, caught at the wicket, first ball - to spark Welsh (and Australian) celebrations.
"We came in as underdogs and it's a fantastic feeling," said Hogan. "We look forward to what the rest of the day brings. I've been trying 17 seasons to get this."
As Hogan referenced, Glamorgan's warm-up match for this tournament resulted in a defeat to Wales Minor Counties. From there, the stand-in coach, Dave Harrison, has organised a quite unexpected triumph, even allowing for this season's special circumstances.
What followed was also a personal triumph for their sparky young captain, , who put a moderate season behind him with a match-winning 82 from 59 balls to lead Glamorgan to 296 for 9. "Durham have the strongest batting combination in the tournament and we had to put on a score. I played with freedom and enjoyed it. Hogan has been our best bowler in the tournament and he is not retiring any time soon."
Carlson, 23, with a menacing moustache, is a talented batter and, if he has not progressed as fast as some imagined when he made a maiden century against Essex as an 18-year-old, that has owed much to his determination to mix his sporting ambition with a business degree at Cardiff University. He had to commit himself to background reading on match days, finding an empty corporate box to churn out essays when not at the crease and missed matches to take exams.
Two months after taking his final exam, he produced the highest List A score of his career in a domestic final. He will imagine that he has begun a new phase in his career and he might well be right.
The finalists took contrasting approaches to the availability of a clutch of Hundred recruits just in time for the final. Glamorgan preferred to keep faith with the players whose all-round efforts had taken them to the final and ignored Colin Ingram, David Lloyd and Dan Douthwaite. Durham took a different tack and included Matty Potts and Ben Raine. Durham's decision was made easier by the fact that they had lost a pace bowler, Paul van Meekeren, to the Caribbean Premier League and that the players dropped, Jack Campbell and Matt Salisbury had played only half a season and had performed weakly in the semi-final. Both counties made decisions appropriate to their respective situations.
Carlson put a moderate tournament of 151 runs at 19 behind him with impeccable timing. His was the only top-order innings of impetus and he made 81 of a second-wicket partnership of 106 while Glamorgan opener Nick Selman, who once again played the anchor role with enthusiasm.
The inclusion of Potts and Raine allowed Durham the liberty to bowl Chris Rushworth through in his new-ball spell. A floodlit final denied him the possibility of a swing-laden morning, and he had to work hard for his wicket - the dangerous Hamish Rutherford, whose leg-side pick-up fell to long leg. Steven Reingold was expertly plucked off Raine at ground level by the wicketkeeper, Cameron Bancroft, diving to his right.
Carlson also began quite cagily. Always an adventurous off-side player, he found further momentum by daring to go down the ground against Borthwick and the medium-pace slingers of Luke Doneathy, who was pulled after two overs. But two wickets for Potts in two balls left Glamorgan 160 for 5 entering the last 20 overs: Billy Root, out first ball, and unfortunately so, as he realised when he watched the TV replay in the dressing room and offered up a vexed signal for a non-existent umpires' review. Carlson edged behind, looking for an off-side gap.
From that point, the teamwork that had carried Glamorgan to the final again came to the fore. The lower orders gamely stuck at it, no more so than Andrew Salter, who carved 33 from 22 balls before he was befuddled by a slower bouncer. Borthwick had an injury scare when he damaged a finger trying to intercept a return drive, and left the field immediately, which at least enabled Doneathy to complete his over, and dismiss Tom Cullen by loudly claiming a challenging catch over his shoulder and proving that he had the character to have better days.
Durham still felt favourites, but they never dominated against accurate bowling. Their openers, Graham Clark and Alex Lees, had been unstoppable throughout the tournament - the heaviest run-makers in the country. Glamorgan would have been delighted to dismiss both with 64 on the board after 15 overs. To add Borthwick, Durham's driven captain, and David Bedingham, one the most consummate batters of the season, at 74 for 4 put the game firmly in their grasp.
Three of them fell to the offspinner Salter, a Pembrokeshire lad, a journeyman cricketer with only 23 List A wickets to his name in 42 matches. He surpassed himself with 3 for 42, a thorn in Durham's side from the fourth ball onwards when he stunned the left-handed Lees by turning one sharply to pluck his off stump.
The chance of turn, plus a consistent line, demanded respect. Clark eventually made room to leg and swung him to deep midwicket. But the most disappointing dismissal from Durham's point of view belonged to Bedingham, who essayed a strange flip into the leg side for a fifth-ball duck. It was enough for Salter to collect the Player-of-the-Match award. Quite a change, he reflected afterwards, from his memories of Glamorgan's last final at Lord's in 2013 when he was so nervous he was just "trying to bowl straight and hoping it wouldn't bounce twice".
Clark, explosive all season, had to settle for 40 from 55 balls. He hit so many fielders that he should have been playing ten-pin bowling. He might have fallen to both new-ball bowlers and was dropped at slip, on 12, by Selman off Hogan. Durham were on the verge of remedying that as Bancroft and Dickson added 85 in 15 overs. But Bancroft hit a long hop to deep square and Dickson never found the support he needed.
David Hopps writes on county cricket for ESPNcricinfo @davidkhopps