Live Report - England vs India, 1st Test, Trent Bridge, 1st day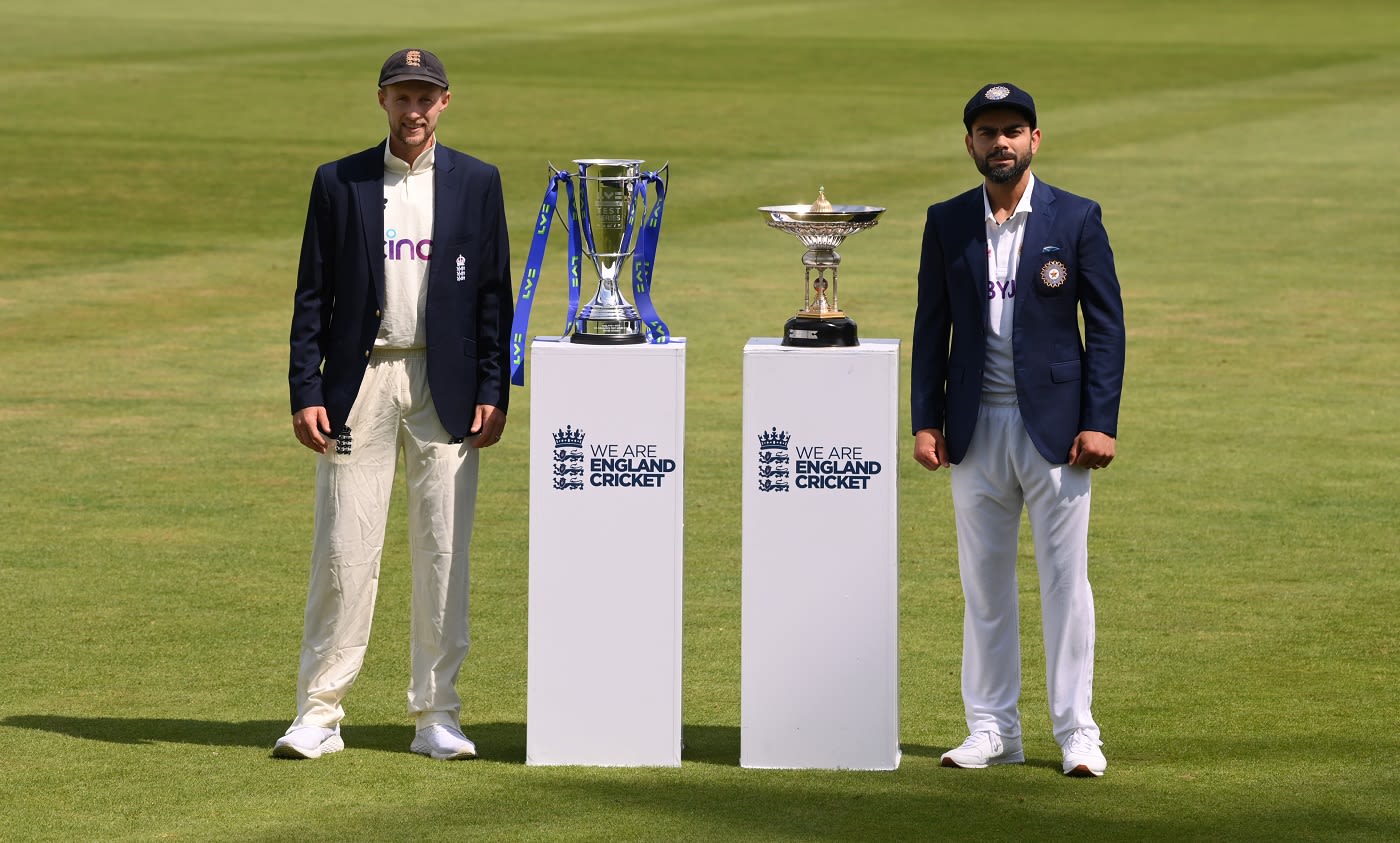 Are you ready? It's time for Test cricket to take centre stage again as India and England come together for the first of a five-match series at Trent Bridge. What does day one have in store? Perhaps a Virat Kohli century? Or a James Anderson five-for? A Cheteshwar Pujara masterclass? Or a Stuart Broad demolition job? ESPNcricinfo's live updates will keep you posted on everything so stay tuned. (Please refresh your page to get the latest)

Click here for . Here's our live .
Another half hour, no wicket
12.30pm
India have now gone to their string of seamers of Mohammed Siraj and Shardul Thakur. The intensity of the examination has dipped a a little too. Thakur started with a beautiful ouswinger, but they don't have the pace and the accuracy of Bumrah and Shami. Consequently, a man has come out of slip to cover. Leg side has been reinforced too. Interesing that Thakur is looking to boiwl a more attacking, full length, but has only two slips and a gully because he is liable to be driven. And that man in the covers has stopped a few boundaries already.
England's control percentage still stuck at 71, but the partnership is still in tact.
England 37 for 1 after 19 overs, Zrawley 23 off 58, Sibley 11 off 51.
Crawley, Sibley survive first hour
Noon
After losing Rory Burns in the first over, England have made it to the drinks at 29 for 1. It has been a testing first hour where Japsrit Bumrah and Mohammed Shami have often gone past the bat. In all, there have been 20 false responses from England, which means their control percentage is under 75.
India have bowled aggressively, which shows in the two-three half-volleys Bumrah and Shami have bowled. However, Zak Crawley, in particular, has been good and has made full use of scoring opportunities. Mohammed Siraj has bowled just the one over where he has bowled two half-volleys and one length ball down the pads.
England 29 for 1, Crawley 21 off 37, Sibley 8 off 36
5:00 Bumrah on the board already
Jasprit Bumrah endured a difficult Test in the WTC final when he looked good but didn't quite have the luck to get him the wickets. Here, though, you might argue he has got one a little too easily. It is high skill and precision, don't get me wrong. Away swing, away swing, away swing, followed by inswing precise enough to pitch within the stumps of a left-hand batter and then straighten enough to beat the bat and hit the pad in front. However, at Test level, you usually expect a batter to not fall for it as early as the first over.
Back in 2018, when Keaton Jennings was looked to make inadequate against the same exact set-up, you could say there was an element of surprise because Bumrah had just started to bowl that inswinger to left-hand batters. Now he mixes both, and you know that is precisely what he is going for when he has taken a few balls away from the batter. Burns will be disappointed he was not ready for the first ball that swung back in and was beaten comprehensively.
England 1 for 1 after three overs.
Ashwin out, but why?
11.10am
That is the debate of the moment. India's best spinner as a bowler alone is left out for the start of the series. In the corresponding fixture three years ago, Ashwin got India the first breakthrough. In the WTC final earlier this summer, Ashwin looked in great touch. And he has been left out for Shardul Thakur here, a combination only 6% of the 36,246 respondents to our backed. Why drop your aggressive spinner then?
This is not as outrageous a move as it first sounds. Conventional wisdom suggests that if your spinner is not likely to be the attacking option in given conditions, you might choose the better batter, especially if you have a long tail. India have Rishabh Pant at No. 6, and the moment they decide the conditions are not conducive for two spinners and pick Shardul Thakur, they need some batting reinforcement at No. 7.
Another possible reason is that there is more than a bit of rain expected on all the rest of the days of the Test. That can sometimes mean there is hardly any wear and tear for a spinner to use. So perhaps better off taking the less attacking option if he happens to be the better batter.
Also there are only two left-hand batters in England's top eight. Not to suggest that Ashwin is ordinary against right-hand batters, but he is different gravy against left-hand ones. Perhaps just another thing going against him.
I mean Ashwin would have been an excellent pick here, but his replacement - Jadeja or Thakur - is not a bad pick given the conditions and team combination either.
Ashwin out
Welcome to the Live Report for the first Test of the series, and we have a hectic first post. Pending any late news of an injury, India have dropped R Ashwin, which might be surprising to many and will definitely spark debate, but is not that bad a move. More on that later. Toss news first.
England have won the toss and are batting first. They have leant on the side of the conservative and picked an extra batter, leaving out specialist spinner Jack Leach. It is a tricky XI to pick now that Ben Stokes is not available. This is the kind of dilemma India go through on overseas tours because they don't have a seam-bowling allrounder.
Here is England's XI
1 RJ Burns, 1 DP Sibley, 3 Z Crawley, 4 JE Root (capt.), 5 JM Bairstow, 6 DW Lawrence, 7 JC Buttler (wk), 8 SM Curran, 9 OE Robinson, 10 SCJ Broad, 11 JM Anderson
India had three choices to make. Whom to open with in the absence of Shubman Gill and Mayank Agarwal? They have gone with KL Rahul. Which three specialist quicks to play? Ishant Sharma seems to have failed a fitness test so that leaves the easy choice Mohammed Shami, Jasprit Bumrah and Mohammed Siraj. Which two to play at 7 and 8? They have gone for the extra seam bowler, leaving out R Ashwin. Here is India's XI:
1 RG Sharma, 2 KL Rahul, 3 CA Pujara, 4 V Kohli (capt.), 5 AM Rahane, 6 RR Pant (wk), 7 RA Jadeja, 8 SN Thakur, 9 JJ Bumrah, 10 Mohammed Shami, 11 Mohammed Siraj
Sidharth Monga is an assistant editor at ESPNcricinfo