Nottinghamshire left wondering if they've lost their mojo after tie with Worcestershire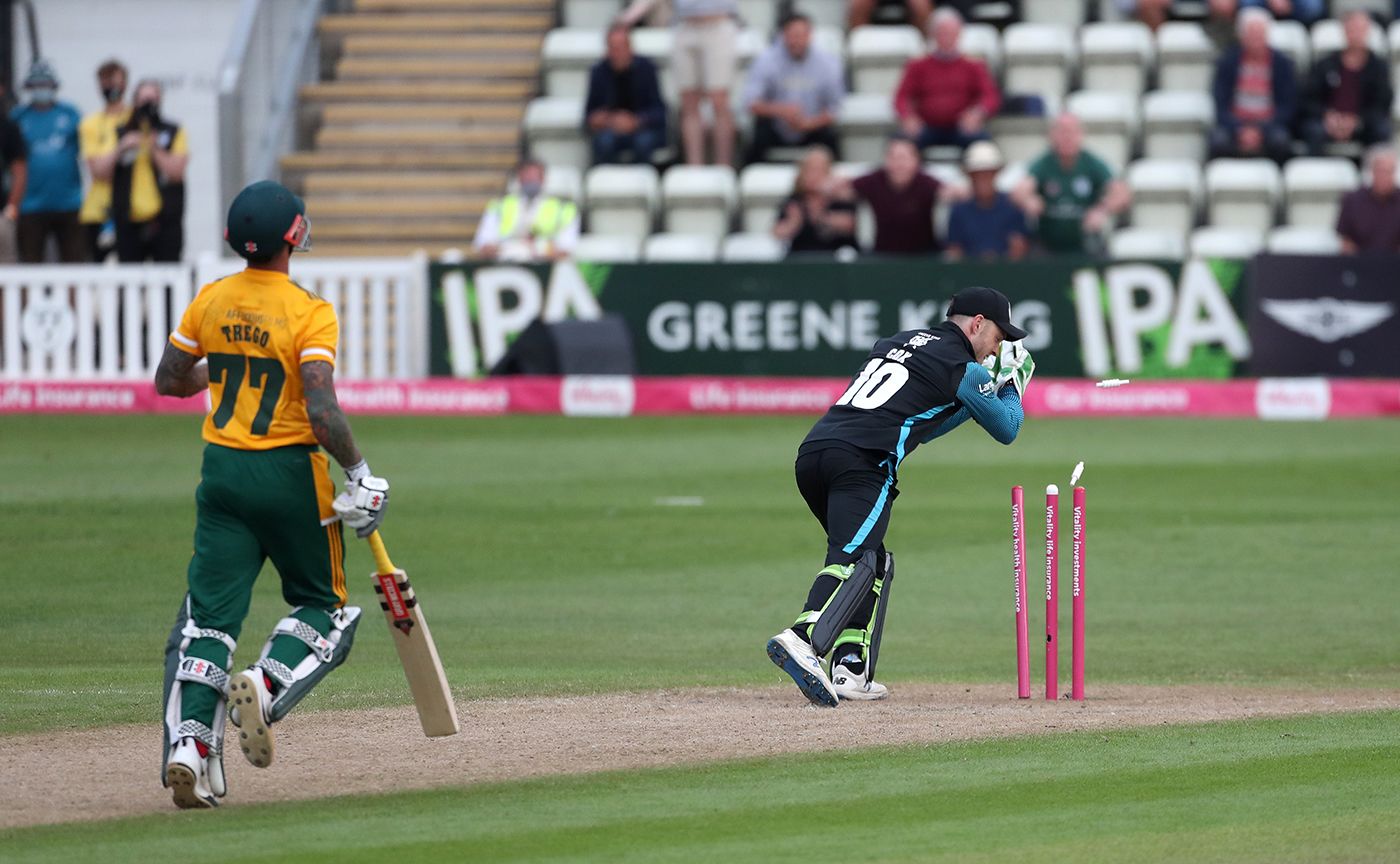 In an uncanny reminder of 2019 semi-final defeat at Edgbaston, Notts fritter away another sure thing
Worcestershire 152 for 6 (Libby 52*, Whiteley 42) tied with Nottinghamshire 152 for 8 (Clarke 45, Trego 35, Hales 31, Moeen 2-15)
Nottinghamshire, the T20 Blast holders, lost their captain and inspiration, , on the eve of the tournament to an Australian white-ball training squad so large it could apply for city status, and for a flickering moment at New Road last night they will also have wondered if they have lost their mojo.
In an uncanny reminder of their 2019 semi-final defeat at Edgbaston, in which Worcestershire fought back to triumph by one run, they frittered away another sure thing, this time at least escaping with a tie when Peter Trego was run out by Ed Barnard, who was in from the rope to save two at long-on and whose flat throw was accurate enough for wicketkeeper Ben Cox to complete the job.
Steven Mullaney, a Championship captain charged at the last minute with taking up the reins in the Blast, was aghast that Notts failed to secure an opening-night win. Worcestershire's 152 for 6 was 20 runs short in the estimation of their captain, , and Notts' pursuit could hardly have begun in more daunting fashion as and Alex Hales raised 76 in the Powerplay.
With half the runs bagged, the game was theirs, but Worcestershire have a habit of rescuing games from unpromising situations and they scrapped on a slow surface. Five were needed from Josh Tongue's last over. Tongue's trusty right boot ran out Luke Fletcher as he failed to steal a leg bye and Trego did not get back on strike until the final ball.
Mullaney at least had a tie but talked about it as if it was a loss: "It's a game we should never have lost after the Powerplay," he said. "We lost wickets at key times with some decisions and poor executions."
One of the most damning was the loss of Samit Patel, who is one of only a handful of players to have played in all 18 seasons of the Blast. In boxing parlance, he looked as if he had gone up a weight and his sluggish attempt to run two after he had driven Brett D'Oliveira through Moeen's hands at short extra was beaten by Charlie Morris' throw. Moeen had earlier accounted for , hit on the back pad by one that turned, and Tom Moores, who was was well caught by Ross Whiteley, diving forward, at deep midwicket.
Notts had cramped up after some serious muscle flexing in the Powerplay. Ben Dwarshius was the leading wicket-taker for Sydney Sixers in the Big Bash but his first two overs went for 15 during an undistinguished debut. Tongue's first over bled 23, plus a couple of leg byes. There were seven sixes, none better than the two Clarke produced in the space of three balls against Tongue as he touched speeds just below 90mph/145kph - an elegant front foot pull, and a cheeky ramp shot after he had survived an lbw appeal.
Hales' most notable moment was a stunningly timed straight six against Tongue when he did little more than hold a defensive pose. Shunned by England, but as dangerous as ever, he played with grim and resolute expression, looking every inch like Johnny Ringo in Tombstone. The last over of the Powerplay did for him as he pulled Morris to long on. Joe Clarke set Nottinghamshire on their way PA Photos/Getty Images
Worcestershire were held together by a batsman Nottinghamshire knew only so well. is better known as one of county cricket's tenacious openers, and he got only limited white-ball opportunities during his years at Trent Bridge, but he has had a chance to expand his role with Worcestershire. With a Championship record of 776 runs at 64.66, his form was not in question, but his ability to score at a match-winning rate still is.
Libby's 52 not out from 43 balls was far from explosive, but it was a sticky pitch, and it arose from a troubled start of 26 for 3 in four overs. He survived a return catch to Mullaney, worked hard for the gaps, and only had the release of three boundaries; two of those came from a thick edge and a misfield.
Worcestershire's tinkering with the order did not pay off. Matt Carter deceived Brett D'Oliveira, who is being tried out as an opener, with a short ball that beat his advance down the wicket on his leg side and had him stumped by yards. Moeen also failed in a foray down the pitch and was bowled leg stump by one that turned through the gate. Add Riki Wessels' run out, beaten by a direct hit from deepish mid off by Mullaney and Nottinghamshire's authority was soon established.
After Cox had been picked off by Mullaney's return catch, Libby found support from Whiteley in a stand of 78 from 57 balls. Notts' bowlers settled into the season. Fletcher ran through his repertoire of slower balls, although he will hope to gain more control as the season goes on; and Calvin Harrison, a legspinner signed this week on a three-month contract, and with previous experience at Hampshire, also settled into his season.
Notts took pace off the ball like the old pros they are. Moeen gambled on reserving his slower bowlers until deep into Notts' reply and limited Barnard to a single over. It paid off, although nobody was entirely sure how or why.
David Hopps writes on county cricket for ESPNcricinfo @davidkhopps