Pakistan four wickets away from win after Mushfiqur run-out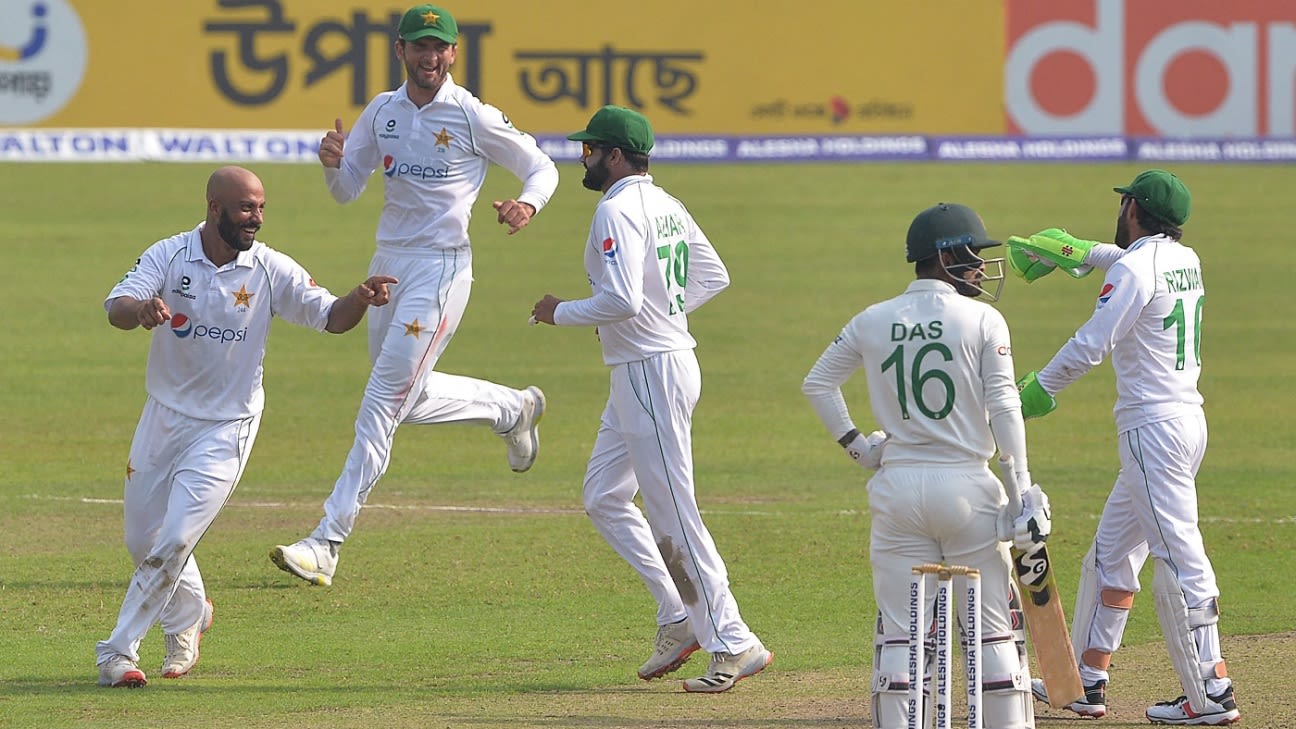 Bangladesh were almost out of trouble once more, only for an impulsive decision to put their side's fate in the balance again
Tea Bangladesh 87 (Shakib 33, Sajid 8-42) and 147 for 6 (Shakib 25*, Afridi 2-18, Hasan 2-32) trail Pakistan 300 for 4 dec by 66 runs
After the chaos of the first session came the relative calm of the second. A game that barely saw four full sessions of play in the first four days had appeared on the brink of producing a result at lunch. Bangladesh, though, fought their way back until was run out after a baffling error of judgment on the stroke of tea to put Pakistan back on top once more, just four wickets away from triumph.
After Bangladesh lost seven wickets in the day's first 14.1 overs across two innings, Liton and Mushfiqur dug in. They saw off what was left off the new ball, and looked to score against offspinner Sajid Khan, adamant not to repeat the mistakes of the first innings. They continued in very much the same way post-lunch, stretching the partnership to 73 before Sajid - who else? - provided the breakthrough as Liton pulled him straight to Fawad Alam at square leg.
For once, the wicket didn't open the floodgates, with Shakib partnering with Mushfiqur for a handy partnership of 49. All of that was overshadowed, though, by a decision to come through for a high-risk single minutes before the tea break. Mushfiqur put in a dive, but his bat had popped up before grounding behind the line, and after lengthy deliberations, the third umpire sent him on his way.
A sensational bowling performance by Sajid last night was topped up by three early wickets for Pakistan - eight in the innings for Sajid - to bowl Bangladesh out for 87. That meant, with a lead of 213, Pakistan could enforce the follow-on, and the visitors weren't done yet. Much as Pakistan have done almost all tour, they ripped through the top order, Shaheen Shah Afridi and Hasan Ali sending the top four back to the pavilion in under nine overs.
Bangladesh began the day needing 25 to avoid the follow-on. But Sajid hadn't finished his first over before he had his first wicket of the day, trapping Taijul Islam in front. With Dhaka bright and sunny after a few grey days, Afridi was allowed to operate from the other end, and took just two deliveries to uproot Khaled Ahmed's stumps, who was forced on strike after a mix-up with Shakib Al Hasan off the over's first ball. Shakib, for his part, tried to shield No. 11 Ebadot Hossain while looking to be reasonably positive in a bid to cross the follow-on mark. The approach wasn't without its risks, and he ended up spooning one to Azhar Ali at short cover.
With the home side now suddenly needing to bat a full day to salvage a draw, they required something conspicuously absent all series - a contribution from their top order. It wasn't to come, though. Debutant Mahmudul Hasan Joy was done for by a trademark Hasan dismissal to right-hand batters, drawing Joy on the front foot before the ball shaped back in, sneaking through the gap between bat and pad to knock back the stumps. The other opener, Shadman Islam, was trapped in front by Afridi, who had set him up with away-swingers before bringing one in that clattered into his pads.
Pakistan were prowling, and it wasn't long before more wickets fell. Each new ball bowler would pick up one more, Hasan thudding one into Mominul Haque's pads in front of the stumps, before a brute of a short delivery saw Najmul Hossain Shanto helplessly scoop one up to gully off the splice of the bat.
It brought together the two men who contributed Bangladesh's finest passage of play with the bat all series. Mushfiqur and Liton had batted more than two sessions and contributed 206 runs for the fifth wicket in the first Test, and once more, they offered the most significant resistance to the Pakistan bowlers. Liton, in particular, did well to unsettle the spinners on a pitch that, with capable batters at the crease, appeared to cast its demons off. There was a moment of fortune for Liton against the luckless Nauman, Ali who drew his outside edge, only for no one to realise it and appeal for caught-behind.
After he fell, Mushfiqur battled on, and Shakib too opted for a more conventional, sedate approach compared to his high-risk strokeplay in the first innings. It looked as if these two ever-present pillars in the Bangladesh side might get them out of trouble once more, only for an impulsive decision to put their side's fate in the balance again.
Danyal Rasool is a sub-editor at ESPNcricinfo. @Danny61000